4 Worst Nike SB Dunk Releases of 2008
---
2008 was the Mecca of horrible SB Dunk releases...well the Gold Box SB Dunks were just awful in general (with a few exceptions). These are (in my opinion) the worst Nike SB Dunk releases of 2008:
#4: Nike SB Dunk Low Black/Atom red: It does nothing for me! Its not even a shocking design, or even a sneaker so simple it looks fly! Its just awful colors combined into one SB sneaker! Not cool Nike SB!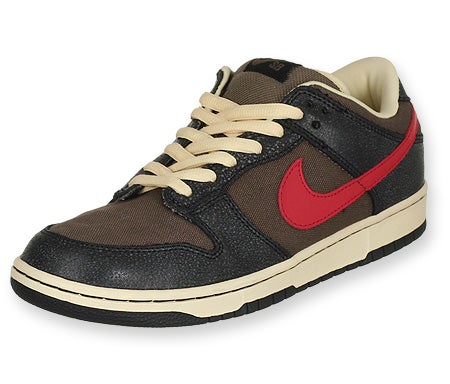 #3: Nike SB Dunk Mid "Spider Man": This was apart of the "Superhero" pack...and apart of possibly the biggest failure of any Nike SB release. The Superhero pack was the weakest pack Nike SB released...ever. These Nike SB Spidermans don't do the real spiderman any justice! Awful colorways and nothing that we haven't seen before! And Bape did the whole "superhero" release so much better than Nike SB! Nike SB...FAILED ATTEMPT!
#2 Nike SB Dunk Mid "Batman": Now, this shoe doesn't even contain the Yellow and Black of the real Batman. It's mainly gray, with a black leather swoosh, and a dull yellow inside. Its nothing special and rather boring. Its worse than the Spiderman SB Dunk because at least Nike put the Spiderman colors into the shoe, here...I don't know what they did.
#1: Nike SB Dunk Mid Tye-Dye: Possibly the tackiest shoe Nike SB has come out with to date. Poor use of tye-dye and the fake denim lookin' material...not workin' for me. Awful release in general.
Some of the good (not great...as there really weren't any in 2008) releases were...
Nike SB Dunk High Bobba Fett
Nike SB Dunk High Big Gulp
Nike SB Dunk High Venom
Nike SB Dunk Low Gold Rail
Nike SB Dunk Low Brown Ale
Nike SB Dunk Mid black/aqua fuel blue
Nike SB Dunk Mid Asbury Park
Generally a bad year for the SB Dunks as the good releases just weren't as fresh as the releases in the past...the SB Dunks need to make a huge comeback in 2009!
Views
9241
Comments
5
Comments